You will probably feel best in the plus size corset dress of a character that is by definition majestic, stately and imposing, or one that is expected to be buxom. Long swishing robes that cover your lumps and bumps and that give you a presence would be ideal. And if your upper arms are less than toned, you might feel happier in something with sleeves.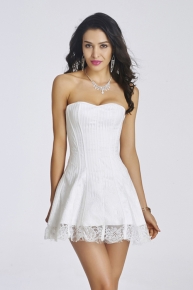 Try to avoid characters that are too delicate, girlish or athletic. You will probably do better as a Queen than as a Princess, as an Angel than as a Fairy. A Witch, Vampire or Ghost costume, or anything with a long flowing cloak, would be good too. Grecian draperies or Valkyrie outfits are superb for you. You would be fine as Cleopatra if your arms are up to it.
There are lots of beautiful Medieval and Renaissance costumes which set off a generous figure to perfection. Any costume involving a corset will nip in your waist and push up your assets. Teamed with a wide hoop skirt, this silhouette will make your upper torso look well defined and conceal heavy thighs.
Think about the Tavern Wench, or possibly the Southern Belle if you are in an age group to carry it off. The female Pirate can be effective too, as she doesn't have to be slim (think of the character Ruth in Gilbert and Sullivan's Pirates of Penzance).
All this does not mean that you have to look mature, elderly or frumpy.  If you want to be  a Fairy, make sure you are a funny fairy rather than one that looks like mutton dressed as lamb.  The Princess is expected to be youthful and fresh, so if you are a little past that stage perhaps think of another idea.