You can be guaranteed that other family members will not be getting it for her and you can show off how much you know about her by choosing one in her favorite color or fabric! I know that I would consider a corset to be an incredibly romantic gift from my partner, so it is sure to score you some brownie points as well! Pamper her with something you know she will appreciate but probably won't get herself.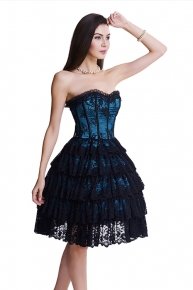 Maybe you don't even want it for the female in your life. Everyone has that one relative that sends or gives those 'gag gifts' every year, why not win the war this year by sending them a beautiful corset! Wouldn't 'Uncle Harry' just look darling in it? Do you know someone who needs a corset for a theater production? Show them that you take their profession or hobby seriously and help them out with their costume, then. There really are no limits as to the scope of reasons to buy a corset for someone you know this holiday season!
Ladies, don't be left out of the holiday shopping! Do you have a friend or relative celebrating an anniversary, birthday or an upcoming wedding? A corset could be just the gift to make her feel attractive, flirty and fun! Do you have that one friend who is just a bit shy and nervous about getting one, even though she'd love to try it out? What are friends for? Help her get in touch with her 'wilder' side by giving her just that slight 'nudge' she needs and deserves.
What if you simply want to pamper yourself with a beautiful piece of lingerie? A corset could be perfect for you. It can be worn under your everyday clothes, your business suits or even as a daring or flirty change to your 'going out on the town' outfits. They're a great way to feel sexy and attractive without having to advertise a lot of 'flesh' to the rest of the world. Keep it your 'naughty' little secret or get a romantic, lacy number to show the world your feminine side. No matter how or why you wear it, you can't go wrong! Remember, corsets aren't the uncomfortable undergarments they started out as and used to be! Now they are comfortable, beautiful, fun, flirty or down-right sexy!