Shoe trends and shoe fashion have gained a lot of attention. Besides boots, high boots, heels, etc. wearing loafers is a huge trend this year. We can blame it on the 2020's casual quarantine life. But jokes aside loafers have always been synonymously related to comfort and have gained popularity for the same. Initially, when loafers were introduced in the early 1940s, women were attracted to this casual and comfortable footwear. Since then they have always been a staple in a woman's wardrobe. In short, loafers are a timeless trend.
During the 2020s fashion weeks, loafers popped up at the fashion shows. The acceptance of loafers on the runway in a range of styles and prices make them the worthiest and the best shoe trend of all time. These shoes are extremely functional and easy to style. Be it rain or sunshine loafers can take you through all seasons of the year.
Loafers in 2020 are more modern and edgy, along with being comfortable. There is a wide range of styles and designs to choose from. Starting with the flats to the high heels, pointed-toes, metallic color, velvet, and suede materials, the ones with tassels, bright-colored, and the ones with high box heels. Each style is unique and trendy. It all depends on your choice and preference. Besides styling loafers is easy. It pairs well with most of your outfits.
Loafers look great with most of the outfits but pair well and look stylish when worn with a pair of jeans. Adding a pair of loafers completes any casual outfit making you look relaxed and refined. They give a perfect vintage look with your simple T-shirt and jeans combo. There are different ways to spice up your casual jeans and top look. For a more edgy and masculine look, you can pair your loafers with skinny jeans and a button-down shirt.
Wearing a loafer with a pair of loose slouchy boyfriend jeans gives that street style an edge that looks cool. An all denim outfit, or denim overalls with loafers gives that ultimate work vibes feel. Throwing an oversize cardigan over your jeans and a hat will make you the cowgirl that you want to be. Besides stylists love this footwear because it can be worn with both casual and formal outfits. Pairing loafers with your casual jeans, top, and adding a blazer creates a smart-casual ensemble.
Black is timeless and these pointed toe loafers with tassels are so trendy this season. Paired with jeans it is very chic and stylish.
We always need a couple of bright-colored footwear in our wardrobe for days to brighten up the simple and boring outfit or to add a pop of color to a simple monochromatic look.
Metallic loafers go well with everything. Paired with your favorite jeans looks cool and casual.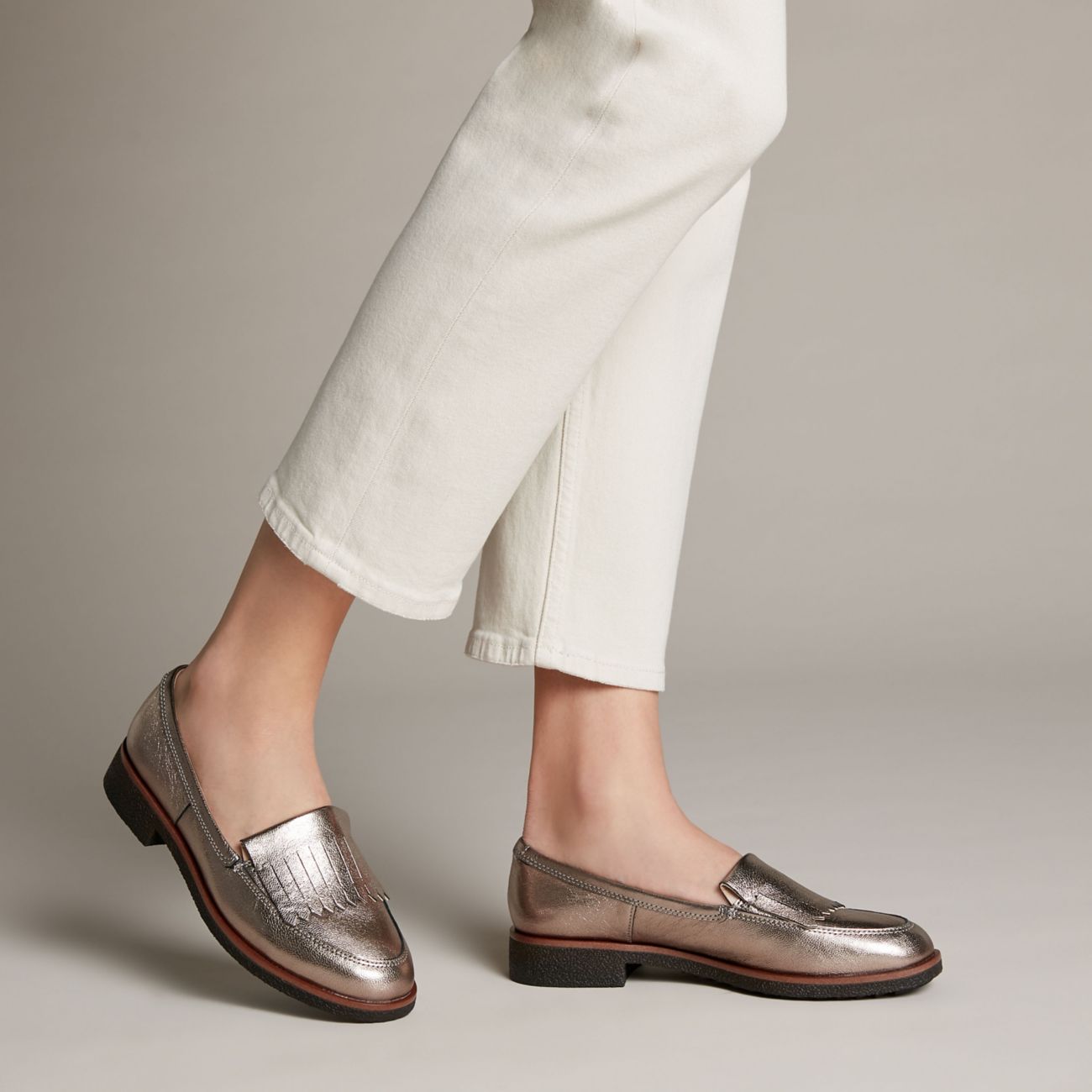 These gorgeous pairs of neutral loafers are perfect, effortless, and give a posh silhouette.
If you are a fan of loafers like we are, these are some of the best and stylish options to sport this season. They pair well with jeans and other outfits too.