Summer is just around the corner and it's time to get your wardrobe ready for the season! Whether you're planning a beach vacation, going out with friends, or attending festivities, having the right outfits lined up will help ensure that you feel confident and comfortable wherever you go. To give you some fashion inspiration for summer 2023, I have made an ultimate list of must-haves – from pretty sundresses to statement chokers – That will elevate any outfit while still letting your personal style shine through! So let's dive in and explore how these pieces can make all the difference this summer.
Biker shorts and crop tops – the perfect combination for a night out on the town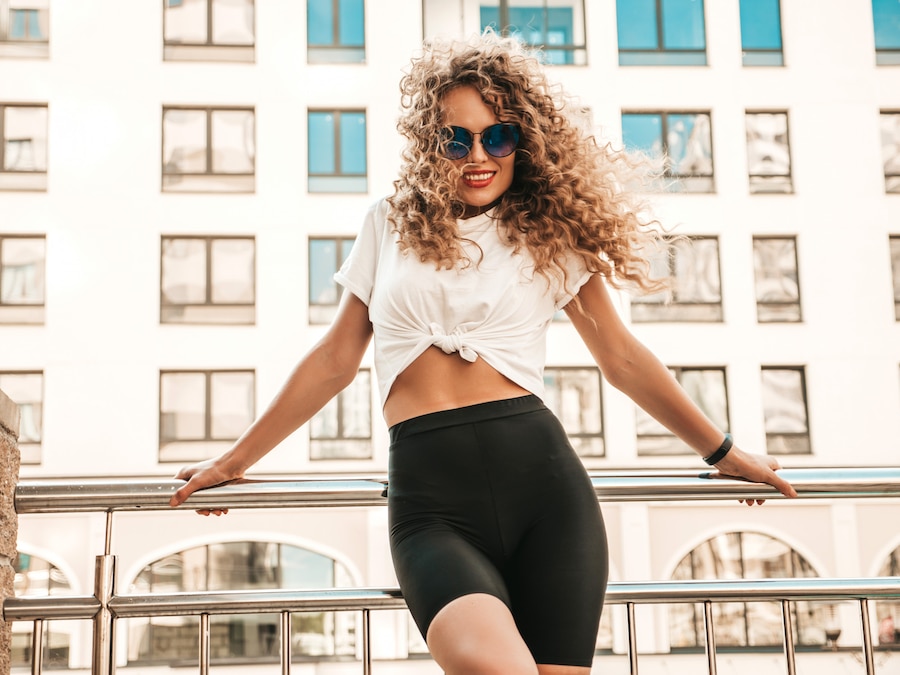 When it comes to finding the perfect outfit for a night out on the town, it can be a challenge to strike the balance between looking stylish and feeling comfortable. That's why biker shorts and crop tops are the ultimate combinations for a night out. Biker shorts provide a sleek and flattering silhouette for your legs while still allowing for plenty of movement and comfort. Plus, pairing them with a crop top adds just the right amount of edge and sexiness to the overall look. Whether you're hitting up a trendy rooftop bar or dancing the night away at your favorite club, you'll feel confident and stylish in this versatile outfit choice.
Flatform sandals – cool, comfy, and stylish
Looking for a footwear choice that's both cool and comfortable? Look no further than flatform sandals! These stylish shoes have been gaining popularity in recent years, and it's not hard to see why. With their chunky platform soles, they provide a little extra height while still being easy to walk in. Plus, their open-toe design makes them perfect for wearing in warm weather. Whether you're running errands, hitting the beach, or just lounging around, flatform sandals are a must-have accessory that will keep you looking and feeling your best. So why not add a pair to your shoe collection today?
A "power skirt" for professional meetings or interviews
Looking good is important, especially when it comes to owning a room full of people during a meeting or interview. A "power skirt" is an ideal clothing item that can add confidence to any professional outfit, allowing you to take charge and exude your authority. It's advisable to go for a skirt that's knee-length or slightly above. Avoid anything too tight or short, as you don't want to leave an unprofessional impression or show too much leg. Aim for a timeless piece that complements your style and body type, and pair it with a professional top and heels to complete the look. A powder skirt can revolutionize the way you present yourself in a professional setting.
A bright, colorful swimsuit – be bold in the sun!
There's something about wearing a bright, colorful swimsuit that just instantly lifts your mood and puts you in the summertime spirit. Whether you're lounging poolside or splashing around in the waves, a bold swimsuit is the perfect way to stand out and show off your individual style. Not only do these vibrant suits add a pop of color to your beach wardrobe, but they also evoke a sense of confidence and adventure. So go ahead, embrace your inner mermaid, and rock a colorful swimsuit on your next beach day. The sun is shining and it's time to shine too!
Denim jackets or vests – ideal for layering and adding texture to any outfit
When it comes to versatile pieces in your wardrobe, denim jackets or vests are a no-brainer. Not only are they perfect for layering, but they can also add texture and dimension to any outfit. Whether you're pairing it with a basic white t-shirt and jeans or layering it over a floral dress, a denim jacket can instantly elevate your look. Plus, they come in a variety of washes and styles, from classic blue to distressed and cropped. So why not add one (or a few) to your closet and experiment with all the possibilities for layering and texture? Your outfits will thank you.
Knee-length shorts – for those hot summer days when you want to stay cool
When the summer heat hits, sometimes the idea of wearing pants can be unbearable. That's where knee-length shorts come in! These stylish and practical shorts are the perfect solution for when you want to stay cool on hot summer days. With a comfortable and breathable fit, knee-length shorts allow your legs to breathe and keep you feeling refreshed. Plus, they come in a variety of colors and styles, making it easy to find a pair that fits your personal style! So next time you're looking for a way to beat the heat, consider slipping on a pair of knee-length shorts and stay cool all season long.
Overall, stocking up on trendy wardrobe essentials for any season is essential. When creating a look, think carefully about how you want to feel – bold, comfortable, stylish, powerful – and choose the pieces that reflect your desired emotion accordingly. Whatever you choose, biker shorts and crop tops for a night out dancing, flatform sandals for comfort and style, a power skirt for professional meetings or job interviews, a vivid swimsuit for the beach or poolside days, denim jackets or vests to layer on top of any outfit, or knee-length shorts during hot summer days – you can always be sure that your style will make an impression! If you want to stay ahead of fashion trends while staying true to yourself and your unique style aesthetic – keep reading our blog posts!