It is no secret that a good steel boned corset skirts sets  will set you back a few pennies, but the question is, are they worth it? I'm going to have to say yes of course, as it's what my world is all about. But take that aside and i would still be saying yes. Naturally, when i first entered the world of corsets i started with the cheaper plastic boned corsets to see what i thought and i very quickly moved on to steel boned corsets. What a difference in quality and the strength of the corsets was amazing and the ability to actually pull you in by 4-5 inches was not a lie!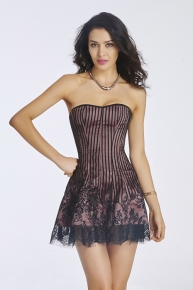 The sheer cost of buying a good steel boned corset is enough to put some people off buying one, but i can assure you that buying one of these corsets is an investment. Your steel boned corset won't be worn just once for a particular event, you'll wear it over and over again, they look and feel amazing on. A corset is just that, an investment, an investment for yourself to feel and look amazing, because every woman should feel that.
A steel corset can take anything from 30-40 hours to make and obviously not in one go. Your eyes need a break from making these awesome creations, especially the ones that have intricate hand stitched embroidery, so your fingers need a break too. The making of a corset is an art form, with many years of dedication, research and skill required to carry it out with excellence.
These corsets are made purely for fashion purposes. Although they look like real corsets, they do not offer the function of a real corset, which is waist reduction and the creation of an hourglass silhouette figure. Although fashion corsets can have a wide pricing range, it is not worth an expensive price tag. These corsets will not affect your body in any way as such and will not provide you with any support or enhance your curves.