There are many events that encourage people to participate in fancy dress competition. Schools organize different types of programs and events. Fancy dress competition is getting more popular. Children love to participate in such kind of events. They look cute and sweet in fancy dresses.
Parents need to keep in mind one important thing while preparing their kids for fancy dress competition. Children need to rehearse properly so that they can walk without any hesitation wearing fancy dresses. Not everyone can win the competition. It is better not to goad the child into winning. Parents and teachers need to make it sure that the children are uttering the dialogues in the right way. Body language is also important. They need to be confident while walking the stage wearing colorful dresses. Comfort factor should be considered while preparing your kid for fancy dress competition. You need to make it sure that your child is feeling comfortable in the dress you have selected for him/her. While choosing the clothing, layers and props, you need to keep this thing in mind.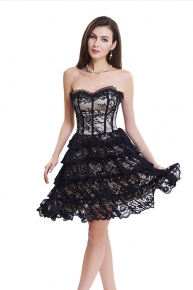 Older kids are quite enthusiastic about fancy dress competitions. They show eagerness in participating in such kind of contests. But toddlers feel little uncomfortable in dresses. You can make them feel comfortable in many ways. You can show them some pictures of the participants wearing fancy costumes. Theme based fancy costumes are also gaining much popularity. There are several fancy dress themes (including sports, animals, tradition and ecology) to choose from.
You need to do some research on the subject. It will help you to prepare your kid with appropriate dialogues. Animal themes are quite interesting and exciting. You can select the "Dalamation" dog theme for this kind of event. You only need to organize a white full pant and a white T shirt. A string can be used as a short tail. You can also opt for the caps that are designed with hanging cotton ears. Black fabric color can be used to paint the uneven spots all over the costumes.