A custom corset, especially designed for a particular occasion, may be made of various fabrics, such as velvet, silk and satin. These fabrics create a graceful and feminine appearance. You can choose the fabric and the style you wish and can get made according to your dimensions.
Originating in the eighteenth century, corsets have evolved in shape and style over the years. The most popular plus size corset styles since their origin are: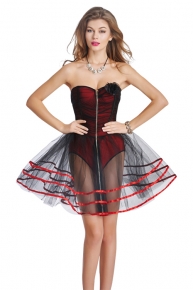 Redresseur was popular between early eighteen and nineteenth century and was custom made for children between 12 and 16 years of age. Its purpose was to shape the upper body. Since adolescence is believed to be the period in which the body is shaped, this piece of clothing was worn to get a great permanent shape for the torso.
For those craving for that nineteenth century hourglass figure, hourglass corsets are nothing short of a blessing. They are designed to accentuate the body curves and make the waist look thinner by 3 to 4 inches.
Overbust  corset starts from the bust line and ends just above the hips. They are meant to shape your breast and waistline. If you already have full breasts, it is better not to choose these corsets with heavy decorations on the bust.