When fitting, the major problem areas are the bust and hips but first check for overall fit. If it sits loosely and you can comfortably overlap the back edges you need to take the corset in. There should be at least 2 inches gap at the back. More than 4 and you should probably make it bigger. Unless you like your corsets super tight or are practising corset training.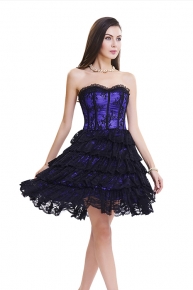 When making a corset skirts sets, whether for yourself or another it is very important to make a mock up to check sizing. This may seem like a needless waste of time an materials to some but it's a very important step if you want a professional look and a perfect fit. Take it from someone who's made a lot of mock ups, it's rare there won't be something that needs altering. The reason for this is simple; we're all unique, we all have different curves and two women sized 12 won't go in and out in exactly the same places. So a corset pattern made in your size won't be a guaranteed fit. You wouldn't buy a dress without trying it on would you? Yes I know with Internet shopping a lot of people do now but try and tell me you don't check the returns policy first!
So hopefully I've convinced you, now what to make your mock up from. Use scrap fabric if you've got any that's suitable, thicker non-stretch fabrics are best but you can get away with medium weight cotton. Use a wider stitch and leave extra wide seam allowances incase you need to unpick anything to let it out. Get some lacing tape if you can – continuous thick cotton strip with eyelets already inserted. You can then whizz your sewing machine down the middle back to attach eyelets which makes fitting so much easier. It's always best but not necessary to sew in some bone casing and slip in some bones near the seams to get a true picture of how the corset will sit. I have some old lacing tape, bone casing and bones that I rip out of my last mock up and sew onto my new one each time.
The bust area needs to be snug but not so tight the flesh bulges over the top. Put a well fitting non-padded bra on under the mock up to get the right shape and pin to shape at the seams – if the bust needs letting out rip or unpick the stitching at the seam before re-pinning. If the skin also bulges under the arms or at the back let out the corset all the way round, otherwise just alter the seams around the bust. At the hips you again need to watch for flesh bulging out around the bottom edge of the corset where seams will need unpicking and letting out or looseness which will need pinning in. Occasionally letting out will need more extra width than is available in the seam allowance. In this case put an extra scrap of fabric under the seam and pin the edges of the seam to this. Then after the fitting you can unpick the whole seam, cutting the extra fabric piece inline with the seam before using the pieces to adjust your corset pattern.