What will people think if I wear a corset to work? It's a thought that has crossed my mind a number of times over the last couple of months as I've spent hours obsessively scrolling through pages of vintage waist cinchers on eBay and Etsy, hunting for the perfect one. Can I pull this off with jeans? What about a slip skirt? Will it make me uncomfortable? Will I look too slutty? That last part may sound like a joke, but at a time in our lives when women are raising their fists and shouting "me too," I must admit that I worry more and more about the way I present myself in a professional setting. Putting on the tight, bust-enhancing top, will I be labeled a women who isn't emancipated or fighting the good fight because I look like a milkmaid or Marie Antoinette? In an era when every little thing is politicized and ultimately becomes polarizing, a simple fashion choice could lead to intense scrutinization and, in my case, self-doubt.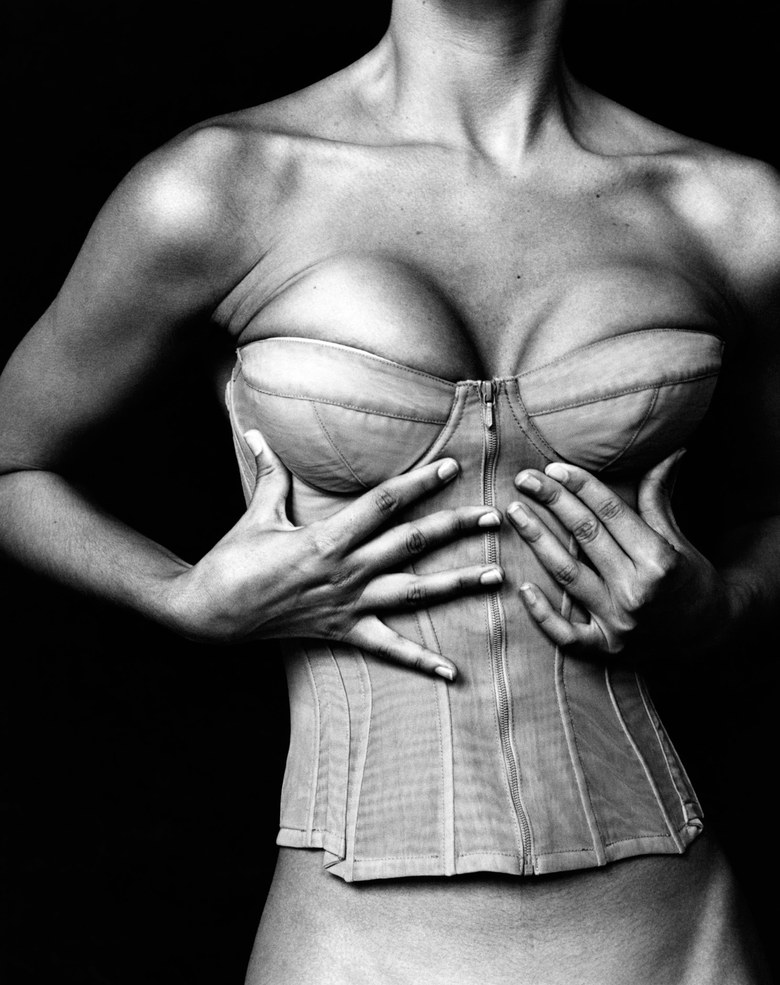 Despite my sartorial and slightly neurotic pauses, I continue to be drawn to corsets. They are beautiful, wearable objects of desire, in my opinion, especially those that borrow their style directly from the 19th century. Back then, corsets were undergarments meant to shape-shift a woman's figure and give her an hourglass outline that could measure as small as 17 inches in the middle (see, a barely able to breathe Scarlett O'Hara holding onto a bedpost and being aggressively tied into her corset in Gone With the Wind). Outside of the waist trainers we see on many a D-list celebrity Instagram account, the days of corset as pain mechanism are in the rearview mirror, or at least they should be. I try to think of this fact when I'm shopping for corsets, and I also look to the great and powerful rise of Spanx during the last decade. Every woman can appreciate a good pair of Spanx. The undergarment brings us together, lifting and tightening all of our loose bits.
Corsets can do the same, especially considering that they're no longer only worn underneath a dress. As Vogue's Fashion News Director Chioma Nnadi explains, "I think all women want to feel like they have a waist if they don't typically wear a lot of form-fitting clothes. A corset can be empowering in that way." They're also surprisingly versatile, too, as Vogue contributing editor Lynn Yaeger pointed out earlier this year after we saw corsets and bustiers come down the Spring runways at Alexander McQueen, Mugler, and Thom Browne. Essentially, you don't have to look like Dita Von Teese lounging in a giant martini glass. A corset can be worn over a prairie dress or even a men's button-down with loosely cut trousers.
I've now worn a corset at the office, at a work party, and at dinner with my parents and friends. Though some (my father) cast a skeptical gaze, the responses have been positive overall. My mom and my girlfriends especially loved a pale blue, floral-print zip-up corset I bought from designer LuQi Yu and her label Nφdress. In turn, I've come to appreciate the freedom corsets actually provide women. I'm no Scarlett O'Hara hoping to catch the gaze of Ashley Wilkes. Wearing a corset in 2018 is about standing up straight, showing off my body with pride, and even, in a way, armoring myself against little daily misogynies.