It is amazing at how many women do not know their bra and panty sizes. Too often, women purchase lingerie that is either ill fitting because it is the wrong size, or simply not made for their body type. When you purchase lingerie, you should think the same way you as when you purchase clothing to find the best lingerie for you.
Most women have some asset to their body that they would like to accentuate and what they consider a flaw that they would like to hide. Suppose, for example, that you have a slight tummy. The best lingerie for you will be something that give you support around the waist if you are wearing it as an undergarment. There are many different types of lingerie to pull in a stomach and wearing such lingerie under your clothes will give you a much better overall appearance in your clothing.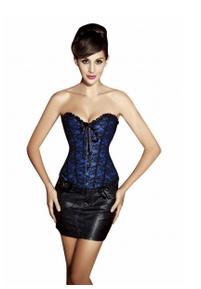 If you have a slight tummy and are looking for sexy lingerie, then a bikini set probably is not for you. However, you can purchase a lingerie teddy that is cut high in the legs to draw more attention to your legs and away from your middle. You can also benefit from a silk chemise style loose nightgown that will not only make you look good, but will be very comfortable as well as sexy to wear.
Women who consider themselves small breasted have many options when it comes to purchasing the best lingerie for them. There are many different types of bras that are designed with padding that will fill out your figure and make your clothes look better. Bras that are padded on the bottom tend to lift your breasts and can give you cleavage that you never before had. If you are small breasted, it is not difficult to find the best lingerie for you. Simply look for nightgowns, teddies and bras that have a bit of padding in the bra. You should also be fully aware of your bra size and cup size as well. You do not want to get anything too tight or too large.
Are you tall? If so, you can find many different styles of lingerie that will flatter your figure. Tall women can afford to carry a few extra pounds easier than shorter women and look wonderful in long, flowing nightgowns. If you are not tall, however, you should stay away from floor length nightgowns and look for mid length or short nightgowns.
Plus sized gals will be glad to know that there is quite a bit of lingerie that caters to the full figured woman. Whether you are interested in getting a nightgown or undergarments, there is the perfect lingerie for you that will flatter your figure and show off those curves!
Slightly built women tend to look better in bikini briefs or thongs with a camisole or bra top. If you are slightly built, you will want to accent your legs, buttocks and waist in these products. You will probably want to draw attention away from your chest area, unless you are opting for lingerie that includes a padded bra.
To truly find the best lingerie for you, take a look at your body and figure out what you like and wish to accent and what you wish to conceal. Then purchase your lingerie accordingly, just as you would your clothes. Wearing proper fitting and sexy lingerie under your clothes can make you feel sexy, confident and be a great boost to your self esteem, no matter what your body type.