Halloween costumes are a crucial part of Halloween activities, and today is a great time for you to start researching the best Halloween costume ideas. Originally, costume themes centred round the supernatural, however in recent times it has become fashionable to select more sophisticated or humorous themes too. With that being said, the range of costumes to choose from has expanded exponentially as well and it is now less complicated to create unique Costumes for Halloween. Let us check on a just a few Costume ideas that could be used for corset skirts sets.
Who here is not familiar with the movie Black Swan; the tragic yet beautiful role of Nina Sayers played none other than by Natalie Portman.
Black Swan follows the story of a dancer, Nina, whose life revolves around her dance career. She was given the lead to the play called Black Swan but was seen fitting more for the role of the White Swan. The artistic director didn't think she had what it takes, the dark side, to play the role of Black Swan, but Nina was set to proof him wrong. In a turn of events, Nina finds herself getting more in touch with her dark side which became uncontrollable, and threatened to destroy her from within.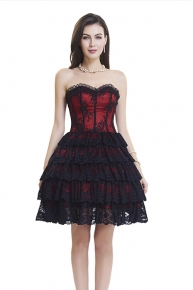 The captivating appearance that Nina carried as her role in Black Swan has captured so much attention around the world. So much so that it would be an excellent costume to wear for Halloween! The white version of the Black Swan is equally amazing and would be perfect to pair with the Black Swan if you're planning to spend Halloween with a friend or a twin.
To wear the dark side of the Swan, you'll need a black leotard, preferably with slender straps and the confidence to wear it. You'll also need a black tutu or ballet skirt. For added fun, why not get yourself a light-up tutu. They're very pretty, especially at night. Don't worry, the tutu is perfectly safe too and has a hidden switch to turn it off.
If you're willing to splurge a little bit more, an intricate black corset will enhance the look. Some feathers around the bodice will be perfect to recreate the Black Swan look. It is, after all, the look of swan you're after, and feathers will make you look more, um, swan-ish. Watch out though, they may tickle!
You'll also need a pair of white opaque tights and black ballet slippers to match your dress. You can also opt for ballet flats instead.
Your makeup can really give you that dramatic look. You'll need to paint your face and upper body white and have feathers painted around your eyes in black. Your lips need to be coloured blood red. Paint some feathers on your hands too. If its done correctly, you can really recreate the striking look of the Black Swan.