Many celebrities these days find that one wedding dress is not enough, and need two or three dresses for their big day. Is this a trend us average folk should consider copying? Obviously for us lesser mortals it would mean a smaller budget per dress (but then a small budget can get you a long way with discount designer wedding dresses), and why would you need more than one dress anyway?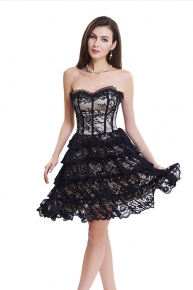 There are definitely benefits to having more than one wedding gown, and you need to decide if those benefits are worth it for you. Firstly you need to consider the different parts of your wedding. There is the ceremony, the reception, and the rest of the evening. With multiple wedding dresses, you can make sure that you are wearing something comfortable and appropriate for each part of your big day. This could be particularly useful for certain venues such as if you are having a beach wedding, perhaps your evening reception will be inside the hotel as even in hot countries, it can get chilly once it gets dark! For winter weddings when you want to have photographs taken outside, you want a dress that you don't freeze in, but equally you don't want to be sweating (ahem…ladies 'glow', don't they?!) when you're inside for the reception and evening celebration.
For a little variation, think about alternating between short and long dresses, formal and more casual styles, and don't forget the impact carefully chosen shoes and accessories can have. Themed weddings are a great opportunity to show off multiple wedding dress choices, as you can really play with colour and style.
Multiple wedding dresses solve this problem of dressing for each part of the day without having to resort to layering or bustling up a skirt. I think I would choose to wear the same dress for the ceremony & wedding breakfast or reception, if only because I would want to get as much wear out of it as possible, but a new dress for the evening would mean I could really go wild on the dancefloor! However, if you have your heart set on a tight corset style bodice, you might find that sitting down and eating is not particularly comfortable, so a looser fitting dress would be better for the wedding breakfast.