Although the zero size figures dominate the pages of fashion magazines and fashion ramp, the overwhelming majority of women whom you encounter in your daily life come in plus size bodies. Women with heavy bust and wide waistline can accentuate their sensuous curves with fashionable plus size corsets. The top corset brands have a large range of gorgeous corsets that can be worn as undergarments or outwear.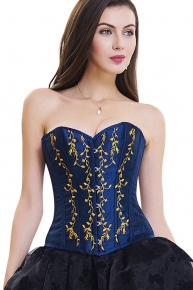 A plus size corset is larger than a normal size corset, but it should not be too large. Unfortunately, this is the biggest mistake a large number of women make while ordering a corset. A corset is meant to improve your body shape. A loose fitted corset on the other hand, instead of accentuating your curves, will worsen your appearance. Therefore, before ordering a corset, first take the measurement of your waist. If necessary, measure your waist several times to avoid mistakes. To get the accurate measurement of the waist, stand in front of a mirror and bend on one side. The crease that you notice just under the ribcage is your waistline. The size of your corset should be about 4 to 6 inches less than the size of your waistline. Also, remember to check your bra cup size before ordering a corset.
While shopping for, plus size women usually have the same choice as their normal size counterparts. The steel boned are ideally suited for improving the posture and shrinking the waistline. The lovely laces and patterns on the corset will tempt you to add them to your lovely eveningwear. The plus size bride can look for a gorgeous designer corset that can be paired with her fabulous bridal gown. The more popular feature flexible lightweight plastic bones. When worn as lingerie they can function as a provocative garment during foreplay. The molded cups enhances the appearance of the voluptuous bosom and the over bust corset compresses the breasts to improve their shape. To reveal the fullness of your breasts, you can opt for under bust. You can also try a plus size reversible corset. With the reversible zippers, built in straps and buttons and adjustable lace up back you can give the same corset two completely different looks.
If the measurement of your waistline disappoints you, to make your waist slimmer you can consider wearing a Plus size corsets daily for about eight to ten hours. You can take it off only while sleeping and during physical activities.