Before you begin shopping for tight lacing corsets, you need to decide how you plan to wear one. You can wear corsets with a pair of jeans, or over a top or dress. You can also wear ladies corsets under outfits to enhance your figure. Some ladies only wear corsets for special occasions or events. Then you want to think about the shaping of the corset. There are many ways that tight lacing corsets are made; for example, you can choose a style that goes under the bust or over. Some corsets have straps while others do not. And then they come in different lengths that may go to the waist or sit low on the hips. Deciding beforehand how you will wear the corset and what style you want will help you shop more effectively.
Then you want to make sure while you are shopping for tight lacing corsets, that you choose one that has quality material. The first important material you should look for is the boning of the corset. Ladies corsets made from plastic are known to break and twist out of shape quite easily. It is best to select one made with a steel boning. Corsets made with steel boning will prevent the corsets from folding as you move.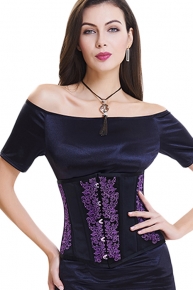 A corset that is made with a quality boning will snap back and not kink up when you bend it. And you never want to wear one that will poke, dig or press into your skin. Also make sure that the lacing is strong. Tight lacing corsets have laces that are similar to shoelaces. The strength of these laces will hold the corset nicely together and will not break easily. And always buy a corset that is made with good quality material. A corset made with a strong material such as canvas is the best.
If possible, always first try on the corset before you purchase it. Preferably while wearing the outfit that you will wear it with. Either have a friend or the store clerk help you when you put on the corset. You want to make sure that there are no bunches under the clothes and that it is comfortable to wear. After you get the corset, get a second opinion to make sure that it fits in all angles.