A plus size corset is a very popular form of corsets for women. Sometimes called a "waist corset", corsets reshape the figure, making the wearer and the way her clothes fit look beautiful and sexy. A quality corset with steel boning will draw in the waist and redistribute weight to lift the breasts. At the same time it should provide support and improve posture. Someone shopping for a Victorian corset, gothic corset, Edwardian corset, bridal corset or just for sexy intimate apparel will find that there are many fashion, fit and quality features available in the plus sizes.
Fit features to look for are an inner cincher band for the slimmest waistline. Boning all around and rigid sections accomplish the best shaping. When buying online, some manufacturers suggest ordering by bra size and some by waist size Pay attention to the sizing charts. As the size goes up, sometimes, the plus size woman might have to order the next size up from her bra size.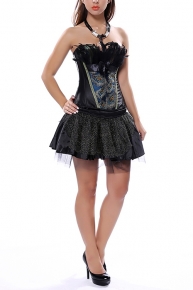 Fashion is important in providing a sexy look. Sexy corsets for women have lacing in the front and the back and may come with a matching thong or g-string and detachable garters. It is suggested to keep the back lacing open somewhat for sex appeal.
Corsets are inherently fashionable and sexy but other features needed are quality material, craftsmanship and careful attention to detail. Non stretch satin is nice because it maintains the hourglass shape. Steel boning is preferable over plastic. Detachable or adjustable shoulder straps give more ways to wear the corset. Some of the finer plus size corsets include details like front hidden eye hook closures, ribbon, lace, brocade panels, sweetheart necklines, front zipper closures, and underwire cups with removable pads.