Corsets are versatile garments and are suitable for a variety of special occasions. It can be worn as bridal wear, eveningwear, club wear and for many other events. They are still in fashion because they make the wearer look chic and extremely feminine. They also provide good support to the back.
There are different styles of corsets available. A steel boned corset is a good investment and can give a shapely and aesthetic figure. Bones, also known as stays, are one of the rigid parts of a corset that forms the frame of the garment. It makes it sturdy and helps to shape the wearer's body. Originally, whalebone was used in corsets because of its flexibility and strength. Because whalebones are expensive, today corsets are designed using plastic or steel boning. Most high quality corsets are used with steel boning.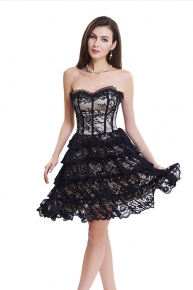 Steel boned corsets can also be individually handcrafted to suit specific measurements. A well-made steel boned corset is more durable and lasts much longer than a readymade one. Corsets are boned with steel bones that are pre-curved to give the wearer a good fit and figure. Steel boned corsets also help shorten the breaking in time for a corset. When steel stays are given at the back, it renders extra firmness and support. It also promotes proper posture preventing undue stress on the spine.
Many corsets used plastic boning and even cane and wood, but steel boning offers a great deal of flexibility while retaining the corset's original shape.