The corset skirts sets has seen a rise in popularity over the last few years. Their functional sexuality creates a desirable hourglass figure. These body shaping undergarments draw attention to the waist, bust and hips, no matter what your body shape. However, the shape of your body can be enhanced positively with the correct style of corset. Here is a list of different body shapes and the corsets that will flatter them best.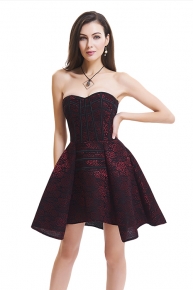 FULL FIGURED PETITE – Short and curvy women benefit from corsets that cinch the waist and accentuate the chest and hips. Pair your corset with dark denim or a pencil skirt to elongate your body. Stay away from shorts and mini skirts when wearing a corset as it will make you look top heavy.
HOURGLASS – Your bust and hips are symmetrical with a well defined waist and curves. Marilyn Monroe is the classic hourglass figure. Like the Straight body, the Hourglass can wear any style of corset. Just make sure that you measure your bust correctly and find the corset that fits your chest. You do not want to fall out of your corset on accident, unless you "really" meant to.
TALL AND THIN – Sleek and lean women typically have longer torso, a small chest and average hips. Long boned corsets are best to accommodate this. It will define your waist and give your bust a boost as well. You can also wear an underbust corset over a blouse for a romantic look. Stay away from dropped waist corsets as it will only lengthen your already long torso.
STRAIGHT – This is the most common body shape of women. "Straight" means that your hips and bust are proportionate to each other, your waist is small and you have subtle curves. This shape can wear any style of corset. Define your waist with a corset that accentuates the bust as it gives the look of a smaller waistline.