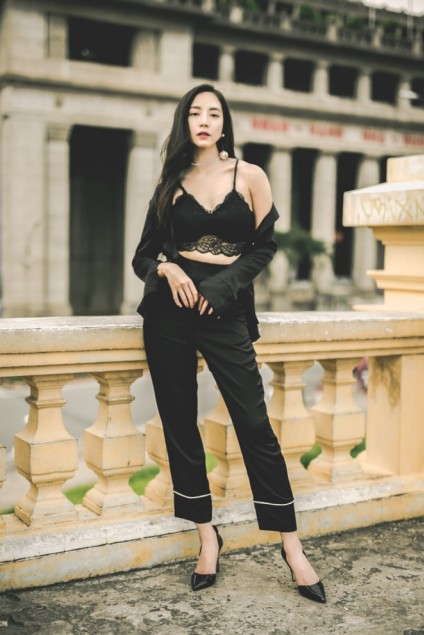 As we all know, every year brings some new fashion trends and 2021 is no different. While there are a couple of different trends that caught our attention, today we would like to talk about a cutout front crop tee and various ways how to wear it in style. Are you ready?
1. Top + Jeans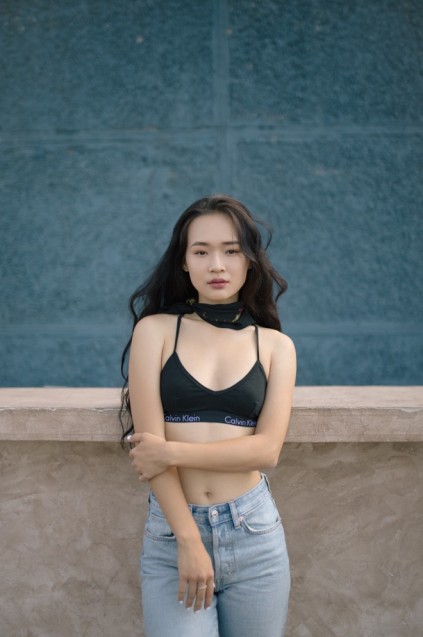 A cutout top will look great with your favorite jeans or shorts. It goes without saying. It's the most simple and effortless way to look good when you don't have too much time to think about your outfit. Add some stylish accessories, such as an elegant clutch and glamorous earrings and you are ready to go!
2. Top + Jogging Pants
For all those ladies who prefer an easy-going, cool look, combining a cutout top with jogging pants will work just fine. To keep your look chic and classy, choose a classic black or white color and add a pair of oversized sunglasses to the mix.
3. Top + Pencil Skirt
For a night out with your girlfriends or for that special dinner date, opt for a very sexy look: a figure-hugging pencil skirt and a cutout top in bold red or elegant black. Add stylish accessories in gold or silver and don't forget about beautiful makeup and hairstyle to complete your outfit and achieve a glamorous and confident look that will turn many heads that night. Another version of this glamorous look is an A-line skirt. Have a look at the example below: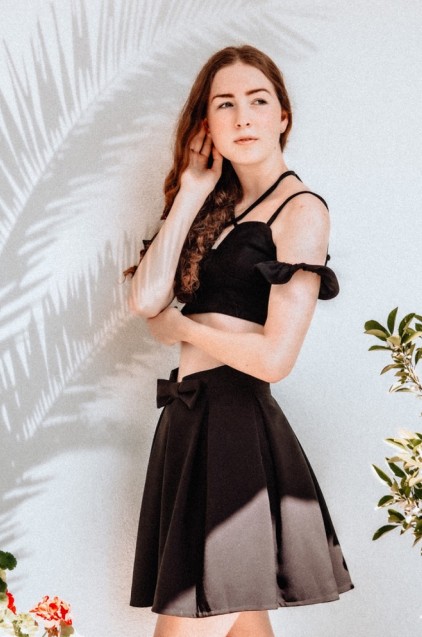 4. Top + Maxi Skirt
A crop-out top will always look amazing with a floor-sweeping skirt and will create an interesting effect, making you appear slimmer and taller. If you choose a colorful print for your skirt, try to keep your top simple and in one color. If your skirt on the other hand is very plain, brighten up your look with a top in a vivid color or with an eye-catching pattern – try tropical print this season or classic black and white polka dot.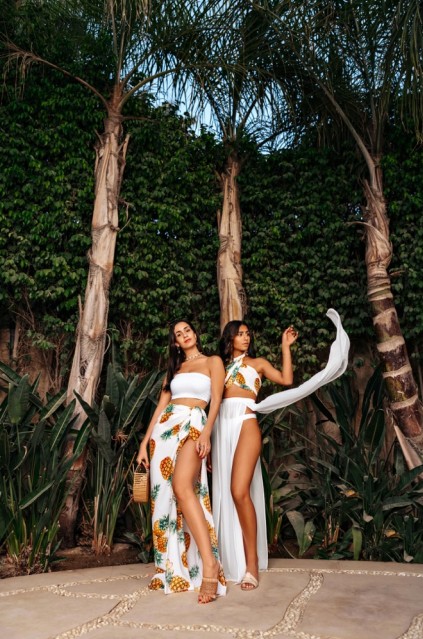 The new cut-out front crop tee trend is suitable for many occasions and it will add a bit of chic and glamour to the most simple outfit. Just make sure you combine it with the right accessories and don't mix too many prints and patterns together.
Also, if you try to attract more attention to the upper part of your body, keep the rest of your outfit simple. Last but not least: the more toned your tummy area is, the better you will look.
During summertime try to put a bit of a tanning lotion to achieve an effect of natural, sun-kissed skin. If you don't feel too comfortable with revealing the midsection of your body (we are all guilty of not sticking to our fitness routine at times!), you can always wear your top with a light jacket or a longer blazer. And remember that looking good is about feeling comfortable in your own skin so work on your attitude and confidence to be able to rock even the most revealing outfits this season!