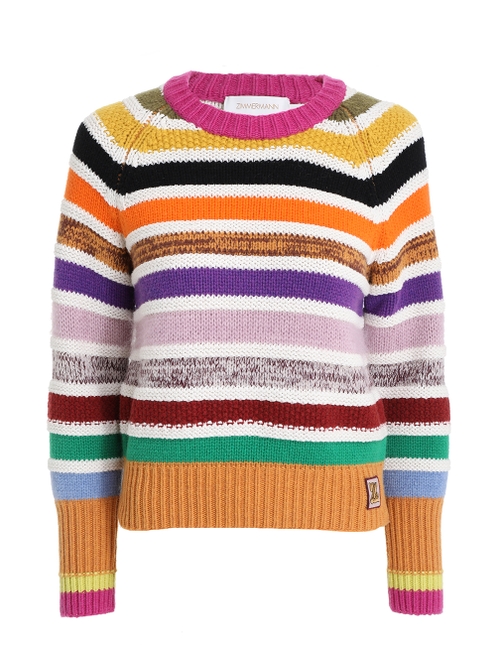 Who doesn't love stripes? They are fun to wear and make your outfit look interesting and creative (especially if you opt for a lot of bright colors as in the picture above). Today we are going to talk about different ways how to wear stripes and always look fashionable. Have a look! A colorful sweater from the main picture can be worn with your favorite pair of jeans. Or on top of a midi/maxi dress in black, dark blue, or purple. How about other ways to wear stripes?
1. Striped Dress
Make sure you add suitable accessories (such as chic ankle boots and an elegant handbag) to complete your fall look.
2. Striped Pants
Wear them with a plain T-shirt and short faux-fur jacket or opt for a comfortable hoodie in white, cream, light pink, lavender, or black. Add a pair of white sneakers, a funky crossbody bag, and a pair of chic sunglasses. A youthful and stylish look for the fall season, suitable for a walk in the park and a weekend away as well!
3. Striped Sweatsuit
If you are not a huge fan of stripes but still would like to incorporate a bit of this trend into your wardrobe, go for a small motif on your sleeve or leg (have a look at the example above). This stylish dark blue sweatsuit is practical and very classic.
4. Striped Cardigan
Striped cardigans are our favorite items for the fall season. Add gold or silver hoop earrings and sneakers to the mix and you are ready to go! This chic urban look is perfect for everyone who loves comfort but wants to look hip at the same time.
5. Striped Sweatshirt
Classic striped sweatshirts can be mixed with floral skirts and dresses this season to create an eclectic, unique look like in the picture above. Give it a try!