It is summer and while mini-skirts may be having their moments now, maxi skirts are becoming a hot fashion trend as we speak. Designers like Balenciaga, Chloé, and Paco Rabanne have been including maxi skirts in their recent runway shows. Chanel is also one of them that also illustrated the prowess of maxi skirts' enduring allure. This ankle-grazing wardrobe essential is highly versatile and can easily transition from a cover-up on the beach to a statement-making staple. There are plenty of ways you can create with a single long skirt. They work for just about anything, from casual summer look to formal events. They are truly a wardrobe staple and long skirts look great on just about any body type. Pair it with sneakers for a casual look while heels and boots are ideal for a more formal look that is office-appropriate.
There is nothing like a long skirt to grab people's attention. Maxi skirts come in many different styles from tulle, pleated, body-hugging, flow, sheer skirts, and more. There are tons of maxi long skirts to choose from and the options are endless. Don't let the sizzling hot summer days deter you from wearing this trending style. With lightweight fabrics and breezy silhouettes, maxi skirts can be as comfortable and cool to wear as their shorter counterparts.
Long Skirt Outfits That Will Turn Heads
If you are wondering just how to wear a maxi skirt apart from pairing it with a simple white tank, well you are in luck. Ahead are the 5 most versatile gorgeous classic long skirts and some style inspiration to make your life a bit easier. Time to add some floor-sweeping style to your cart this summer and beyond.
Crop It Up
The maxi skirt goes with every kind of top like long sleeve shirt, a feminine frilly blouse, a tank top, or a T-shirt. It looks great with crop tops, especially if it comes with voluminous sleeves. This is a great summer look. You can opt for a matching set, with a crop top and high-waisted maxi skirt that exude the summer sexy vibe.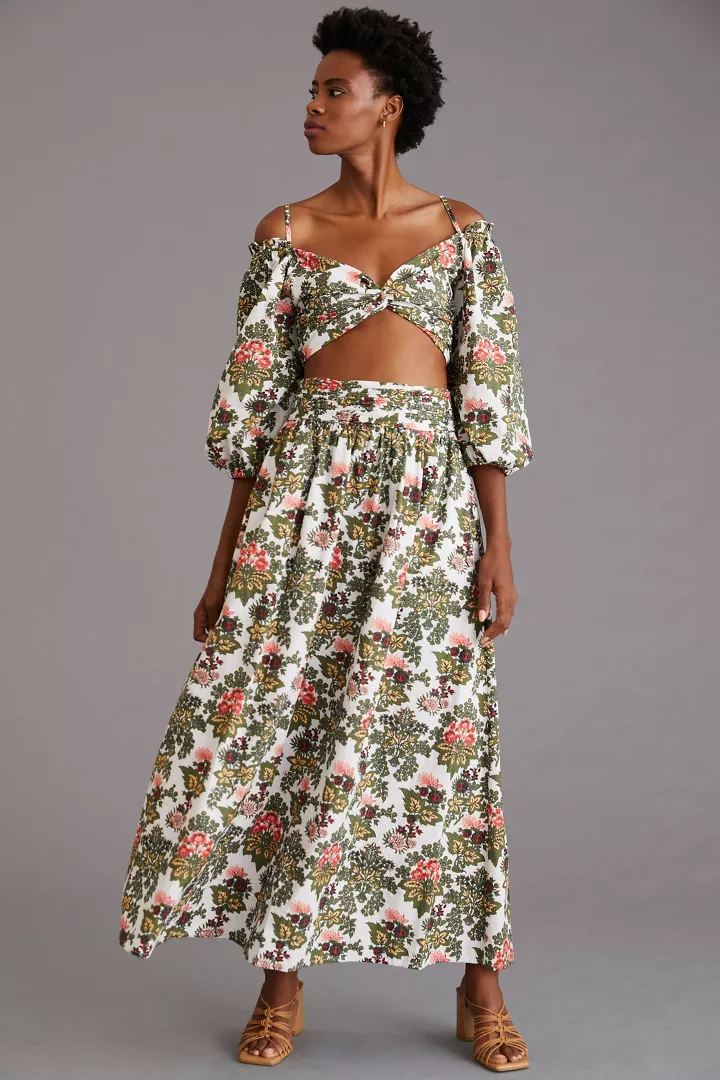 Button Down Shirt
There are many maxi skirts being worn with a pair of flat sandals and a button-down shirt. Some of the styles include tying the button-down shirt at the waist and paired with flat sandals. This look epitomizes the summer vibe while walking down the pebbled streets of Florence with a summer hat. Opt for cotton and linen button-downs that will tie effortlessly and keep you cool in the sweltering heat.
Mix and Match Prints
If you like a high fashion outfit, you can mix and match different prints. This fun and interesting long sleeve top and maxi skirt ensemble are perfect for any event that wants a little extra pizzazz.
Textured Long Skirt
For this season, crochet shows no signs of slowing down and many designers are putting out knit maxi skirts as a staple. The knitted maxi you will be seeing features skirts that have a slimmer cut and hang straighter instead of their frilly, free-spirited tiered counterparts. If you are searching for one, go for beige and cream or any neutrals that work well for summer. Whether you want a matching knit set or mix and match, crochet long skirt and sweater pieces will add texture and depth to this trend. They make a great transitional piece too. 
Pair It With A Tee
For summer you may want to pair a long skirt with a white T-shirt or vintage T-shirt and have a sweater or cardi ready so that you can layer on it when the temperature goes down at night. T-shirts add a casual feel to any maxi whether printed or plain. It makes an easy outfit solution that you will keep reaching out for this season.