Not only age, but skin type also makes each woman's makeup needs different from one another. Hence, many women take their time just to learn several makeup techniques. However, natural makeup is still a favorite choice for women of all ages and skin types, because it provides an instantly fresh and youthful look even with just a little makeup.
Natural makeup focuses on the natural features of your face. It will elevate your look as naturally as possible and cover imperfections on your face perfectly if you do it right. Indeed, this makeup technique is actually a little tricky, even though it seems easy and simple.
Regardless of your age and skin type, follow the natural makeup tutorial below for your everyday flattering look. It's so easy and you won't waste any more time in front of your dressing table every morning!
1. Never Skip Skincare and Sunscreen
Makeup should be applied to a clean and well-hydrated face, to make it look flawless and last long. So, never skip skincare before you start applying your makeup. Every woman's skincare may be different, but make sure yours at least includes basic, but essential care, namely the CTMP routine. It stands for Cleanse-Tone-Moisturize-Protect.
Start by cleaning your face with a facial cleanser that suits your skin type to remove all dirt and oil on your face. Next, apply a water-based toner and let it absorb completely. It may often be taken for granted, but toner can actually help reduce the appearance of enlarged pores, hydrate, and prep your skin for the next step.
The next step is to apply moisturizer. Choose the right one based on your skin type. Moisturizer is useful for helping strengthen your skin's barrier and sealing in moisture for a supple and healthy skin appearance. Lastly, protect your skin with sunscreen during the day. Sunscreen will protect your skin from harmful UV rays, which can cause signs of premature aging and burns.
2. Apply Foundation And Concealer Based On Your Skin Tone
It's important to match your base makeup shade to your skin tone for natural-looking results. It's best to avoid applying too thickly, instead choose products that have good coverage to disguise black spots, acne scars, and fine lines on your face.
If you still need more coverage, use concealer only on trouble spots that need it. Choose a concealer one or two shades lighter than your foundation color to brighten the skin under your eyes. Meanwhile, to cover acne scars and dark spots, you can use the same shade of concealer as your foundation. Make sure to blend your foundation and concealer evenly.
3. Sprinkle Loose Powder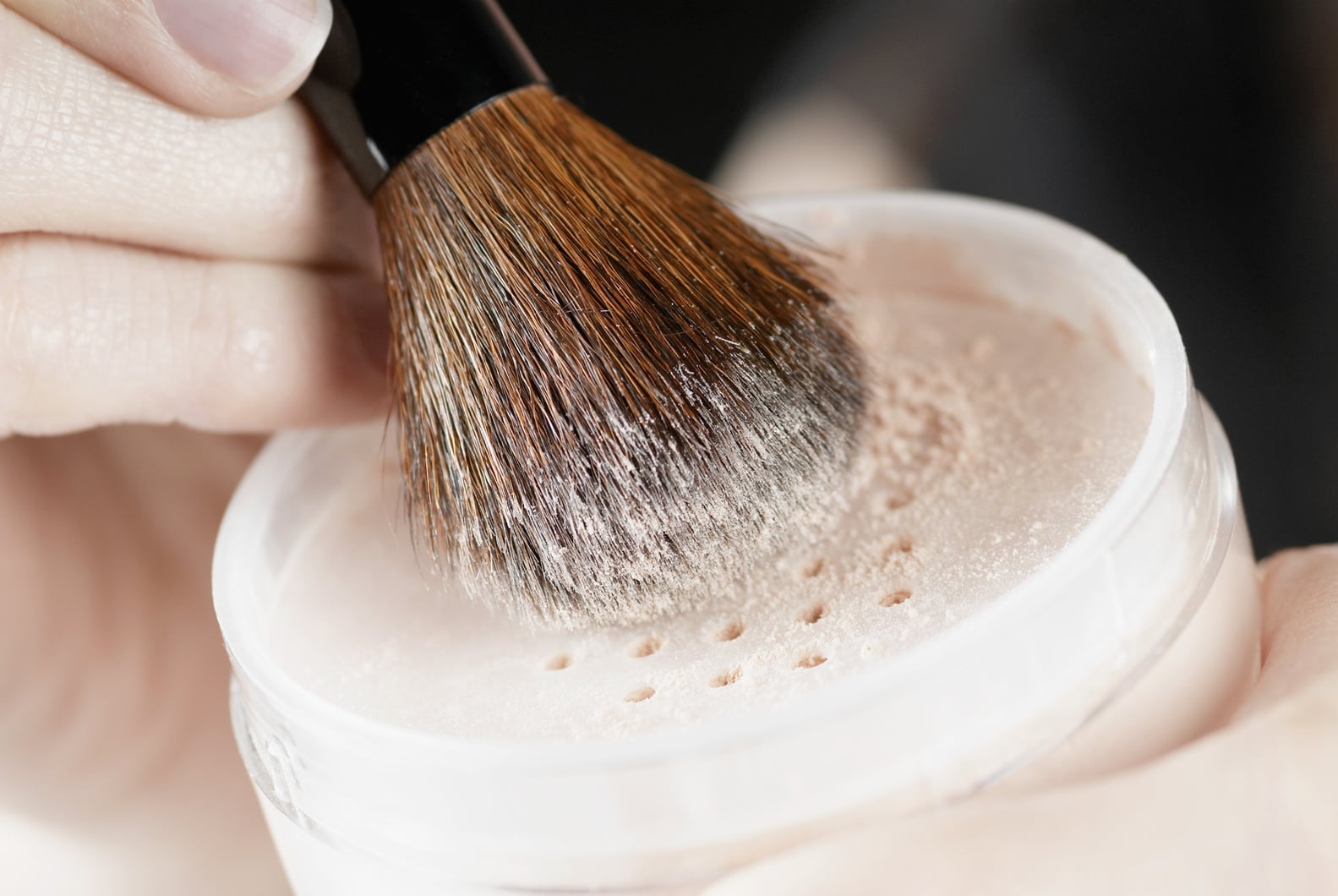 The third step is to apply loose powder. For a natural look, you need to use loose powder rather than other types of powder. Loose powder has a light texture that will help lock in makeup, prevent your face from looking shiny due to sebum, and help your makeup last longer. It is more effective to apply loose powder using a puff or brush, so you can control the thickness easily. For natural makeup, you don't always have to sprinkle loose powder all over your face. However, you can focus on the T-zone or the area that produces the most oil.
4. Draw Natural Eyebrows
The key to natural makeup is drawing eyebrows based on the shape of your face. First, comb your eyebrow hairs upwards so you can find out the bottom line of your eyebrows before drawing them. Next, you can start drawing the bottom line of your eyebrows, then draw a line for the top. Brush the inner tips of your eyebrows to make them look natural. Don't forget to comb with a spoolie so your eyebrows look neater.
5. Apply Natural Colored Eyeshadow
Light brown is the ideal color for a natural look. Especially for the outer corner of the eye, use a darker shade, such as dark brown. For a natural look, a combination of two colors with similar tones is sufficient and you don't need to add other colors. Apply eyeshadow with a gradient technique to make them blend perfectly. You should also choose one that has a matte finish rather than a glittery one.
6. Use Mascara To Get Curler Eyelashes
Before applying mascara to your eyelashes, it is better to curl your eyelashes first. Next, apply one layer of mascara from the base of your lashes to the tip of your upper lashes, do the same on your lower lashes. Do it in a zig-zag motion while rotating the mascara brush. Longer eyelashes will make your eyes look more attractive and fresh, instantly.
7. A Blush For A Fresh Look
A blush can make your face look instantly fresh by giving your skin a natural flush and enhancing your facial features. Choose a natural colored blush like peach, which is suitable for all skin tones. Apply peach blush to your cheekbones to make your skin look more radiant. You can choose a blusher with a little shimmer and a slightly shiny finish to give you a healthy-looking glow.
8. Finish Your Makeup With Moisturizing Lipstick
Make your lips look plumper and healthier with moisturizing lipstick. This year, the popularity of matte lipsticks has been replaced by those that provide a more glossy and wet finish. Indeed, the trend of natural and healthy looks is more preferred these days.
Choose natural colors for the My Lips But Better look, such as peach, pink or nude colors. If you have problems with dry lips, use lip balm a few minutes before applying your lipstick. It would be better if you exfoliate your lips regularly to get flawless makeup results.