Your wedding day is one you won't forget. Similarly, you want your wedding night to be equally memorable. Wedding lingerie can go a long way toward making both of these things happen. It is just as important to your wedding as your dress, your makeup, or the flowers. Your wedding lingerie marks the beginning of your intimate life with your husband. It is also the foundation for your dress and your overall look.
More now than ever, wedding dresses are designed to be sensual and revealing, albeit in a classy manner that reflects the mood of the day. Wedding lingerie should be selected as a reflection of this look. If your dress fits tight to your body, the proper wedding lingerie can prevent the showing of lines and creases.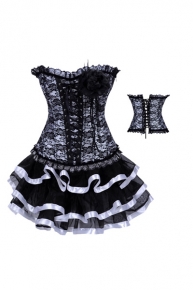 A white thong, for instance is an item that is sexy, comfortable, and can hide from your guests so that your dress wears as it was designed. Your bra is another important part of wedding lingerie. You want supportive a supportive bra under your dress, and you don't want it to show over the top or out the sides of your dress. Strapless bras, again, are a form of wedding lingerie that can be sexy for the night, but reflect your dress in a perfect line during the ceremony and reception. The important thing is balance. Find wedding lingerie that will be functional for the wedding, comfortable for the reception, and still translate into a sexy mood in the honeymoon suite with your new groom. Some brides find that the best wedding lingerie to hit on all three characteristics is the one piece body shaper or corset. It certainly assures no panty lines, is flattering for the torso, comfortable (if fit properly), and most men find them sexy.
In terms of practicality, another very important piece of wedding lingerie is your slip. What style of slip will be needed is dependent on your dress, so obviously you will need to choose that first. When selecting any wedding lingerie be sure to have pictures of your dress with you for reference. For instance, a very full skirt, bouffant style, will need extra lift to keep the weight of the dress form pulling down on the fabrics. In this case, the proper wedding lingerie in terms of the slip is a crinoline slip with many layers. For an A-line type wedding dress, crinoline with only one or two layers is your best bet. No matter what, you need to select your slip based on practicality. This is wedding lingerie that will set the foundation for your wedding dress and your look.