If you really want to knock his socks, pants, etc. off, you want to use what you already have. Case in point, if you're the one that usually cleans up around the house, why not take that to a sexy level?
You might want to try out a Bunny girl plus size corset dress that really makes him happy that you bent over to pick up the napkin that he 'accidentally' dropped. When he gets home, you could also try acting as though you are a true French maid. Don't act as if anything is different. You want to play the part—bad French accent and all. Attend to his every whim and serve him everything that he requests. This is a surprise and a delight for him. Or you can be the wench of the house. Get on the floor and pretend to scrub away (well, if it's dirty, you might as well do it for real). He'll be so surprised that he'll just stand and watch you.
If your man has been feeling under the weather, this is a guaranteed way to surprise the sick right out of him. Warning: Don't try this if he's really nauseous. That never ends well. Anyways, you can dress up as his little nurse and attend to him. Take his temperature (in all sorts of places) and give him a sponge bath. Talk about doing something that he doesn't expect. You may find that he needs a little manual therapy to help him feel better.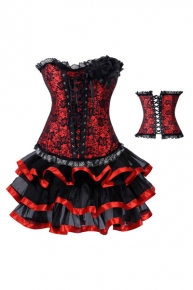 Of course, if you dress up as a harem girl or a belly dancer, you can shock him at the door. Greeting him as a harem girl would create the sense that you are trying to win his favors above the other women. Or you can be his little pirate that is after his booty. That's always a great way to surprise a man. Make him walk the plank to the bedroom. Change up the roles and take charge.
There's nothing a man wants more than to have a woman take control of him—sexually and personally. So now is the perfect time to slide into some leather pants or shorts and a leather bra and get out the paddle. Put on some black eyeliner and some high heeled boots. Think about the dominatrixes that you may have caught online, what do they wear? The great part of this outfit is that you won't have to say a word, he'll know exactly what you are trying to tell him. Bright red lipstick is a good accent as well. Wear a corset or put a collar on him for a greater effect.
You might want to try something that is more true to life and act as though you don't know him. A taxi driver or a waitress is always good. that way, you can pretend to not know him and have him try to pick you up. Some stranger options that work just as well are an angel or a can can girl. Ooh la la. Still other ideas include gypsies and flamenco dancers. Of course, if you showed up to his workplace in a cop outfit, you would definitely surprise him. As well as everyone that he works with. On second thought, I'd leave that one to the home setting. Knock on the door in a cop's outfit and ask to search the premises. Everything will need to be searched.