There are many high quality plus size corsets available to women, you just have to know where to look. It is true, there are many plus size corsets available on the cheaper scale of the market, the acrylic boned corsets, I would stay well clear of those if you are plus size. The acrylic bones will bend and lose there shape so quickly you'll regret the purchase and they won't hold you in at all. You need a steel boned plus size corset, they will hold you in no end, shape your curves to the point that you won't be able to stop looking at yourself in the mirror!
A steel boned corset is made of double layered fabric, unlike the less expensive acrylic boned corsets that are only a single layer of fabric.A steel boned corset is generally made up of no less than 12 steel bones throughout and are all evenly distributed to ensure a smooth finish and will enhance your curvy shape. These corsets are also ideal for larger busted ladies, as they also need that extra support, we don't want you popping out of your corset! There are also halter neck style steel boned corsets that will offer you the extra support you might need.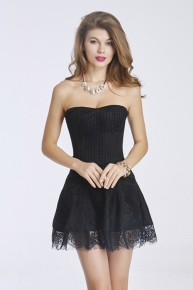 All good steel boned corsets should have a six inch modesty panel at the back to hide any flesh that might be on show, as let's face it, who can do up a corset all the way to the end, not many people are shaped so perfectly or are in such perfect proportion. There is also the added bonus of that steel boned corsets come in various lengths, so there are options for taller ladies too, corsets can go up to 17 or 18 inches in length, which is ideal if you are 5 foot 7 inches or taller.
All plus size women should be able to feel sexy and confident and with the right steel boned corset you will feel exactly that. It is important to measure correctly with no bra on and do not breath in when you measure, we know how hard that can be! But if measured incorrectly you will only end up ordering the wrong size corset and then feel disappointed. So no breathing in. Then take the corset size that is 4-5 inches smaller than your natural waist measurement and shop away. You ladies have so much choice out there, enjoy and feel amazing. Don't ever let your size hold you back, simply embrace your curves.