Now, corsets serve as a fashion statement. Corsets are worn on their own, breaking normal boundaries in contemporary society and incorporating risque lingerie into fashion trends. Corsets are now worn in public forums for casual outings, clubs, dances, and parties. They are best seen with jeans in darker solid colors often donned with a lace covering or simply the solid color on its own.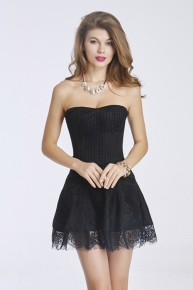 Corsets that are strapless as well as corsets with straps are often worn in public. Obviously corsets with straps offer more support and less likelihood of falling off when you are dancing at a club, but either one works as a fashion statement. Be sure to wear a corset that is not covered in skin tones, or too revealing for a night out. If just donning a corset is still too revealing, but the pattern is one that you wish to show off, a simple shoulder covering or short sweater and make you feel more comfortable.
Corsets have made the transition from undergarments to nighttime play to even day time wear. They are now seen as dresses. Corset tops can be found on wedding dresses and on many prom dresses in all shapes and styles.
Naturally, you must still bear in mind that if you choose to wear a corset as part of a casual ensemble you must still find a corset which is the correct size. As a good rule of thumb, you don't want a corset with a simple S, M, or L. Look for a traditional corset with ribbed support, ties in the back, and sizes akin to your measurements. If you would prefer a more inexpensive option for a night out, a re-made design can work as well. You can pick materials as simple as cotton for your corset, with higher end options such as silk and lace to match your taste and style.