Having a corset serves a variety of purposes. Underneath your clothes, plus size corsets help to hold everything in and give you that perfectly shaped waist and bust and give you the hourglass figure that so many women are after. You don't have to go to the gym to get the shapely curves that you were born with to look great; plus size corsets serve this purpose and very well at that. You can get practical ones that are skimpy on the extras and provide extra support or you can give a little bit in terms of support and get sexy lace, clasps, and extras to bring that sex appeal that so many women are looking for in corsets.
Large size swimsuits, dresses, skirts, blouses, dungarees, etc., make it possible for the larger size woman to wear appropriate garments for any occasion just like her skinnier friends. But large size corsets offer her a much more exciting advantage. A well made corset can take a voluptuous figure and make it more alluring by holding in and smoothing out all the unsightly lumps and bumps at the bust, hips and waistline. It can actually make a woman look many pounds slimmer.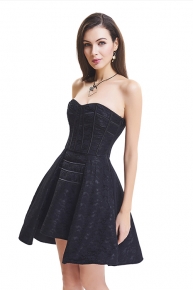 And corsets don't only come in cotton and synthetics these days. They are available in yummy silks and satins, trimmed with lace, bows, and lace up ties. Ladies who follow the latest trends know that corsets aren't only worn as sexy undergarments anymore, but also as provocative outerwear for an evening dancing at a club.
The purpose of corsets is to constrain all the parts that you don't want pooching out, and to make you look terrific. Yes, corsets are supposed to be tight, but if you are full-figured, you should be careful not to get one that is too constricting, or it will impede your breathing and circulation, which is unhealthy. In Victorian times, when corsets were an everyday fashion item, it was common to have a fainting couch. This was a piece of furniture where a lady could recover when she had gone too far in tightening her corset and needed to recline to get her breath back. A well-fitting corset is an asset that can make you look slender and shapely, but be careful not to carry it too far.