When it comes to fashion and styling, there are some simple rules that you can follow in order to always look good. One of them is having ready sets of outfits in your closet so you can quickly get ready when you need to go out. Those sets should be tried beforehand to make sure that everything fits and looks attractive when combined together. Always keep in mind that certain color or pattern combinations may look amazing together, however, the style of your clothes prevents them to be worn as a set.
Let's have a look at some examples to illustrate this concept better. If you are planning to wear a long, loose blouse, you should probably match it with skinny jeans or a pencil skirt. If you choose oversized pants or a maxi skirt, you will end up with too much volume and your figure won't look balanced. The same goes for tiny crop tops or any other figure-hugging tops. In this case, you should avoid slim pants and shorts and rather go for a loose style or an A-line skirt. This way, you will achieve an interesting contrast and you will look much more attractive.
When selecting your clothes sets this spring and summer, pay extra attention to the length of your items, cut, the texture of the fabric, colors, prints/patterns, and small details such as buttons, zippers, pockets, etc. To make the whole process a little bit easier, we prepared some visual examples that you can easily copy and adjust to your own needs. We will also show you some of our favorite colors for this season, so keep reading!
1. Effortless & Comfortable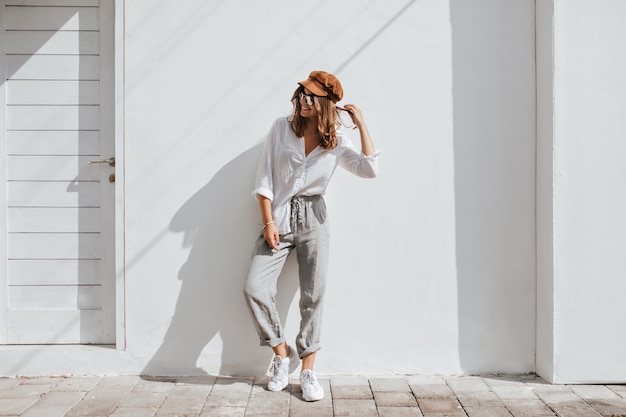 The first look is for all those ladies who prioritize comfort and enjoy the minimalist, uncomplicated look. Linen or cotton pants can be worn with a white blouse or shirt that can be tugged inside or worn loose. You can also leave it open (unbuttoned) and wear a stylish crop top in a contrasting color underneath (classic black would also look good).
Wear this set with a pair of white sneakers and a stylish hat or baseball cap. Remember to keep your color palette toned and use only 2-3 colors. Recommended colors include: white, beige, light brown, and grey.
2. Elegant & Sophisticated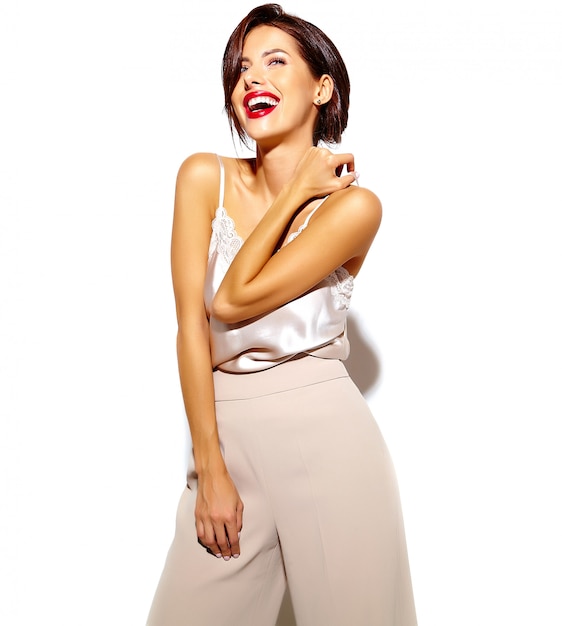 The second look is suitable for all those occasions when you need to look stylish and confident. Choose elegant pants in light beige and wear them with a silk cami top with delicate lace details. Add a fashionable clutch and suitable jewelry to finish up your look.
3. Cool & Collected
Our third blouse + pants set is a professional yet very feminine office look. Keep your accessories to a bare minimum (belt, handbag, black pumps), and don't forget to sport a confident, strong attitude that is always helpful in a workplace.
4. Girly & Seductive
The last look, a little bit more colorful, is a great option for those girls who are playful and like to follow the latest fashion trends. Off-the-shoulder top and high-waist pants go very well together and can be worn for a weekend trip out of town or a casual lunch with your girlfriends.